About Omasta Landscaping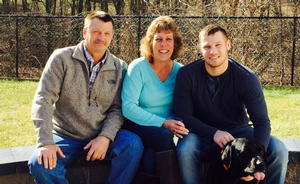 Since 1979, Omasta Landscaping Inc., has been in the business of creating beautiful landscapes for homeowners and businesses. Our full service company can start with a carefully laid out plan and provide the necessary maintenance to make your property the envy of the neighborhood.
Omasta Landscaping Inc. was founded on providing personalized, customized and affordable service to it's customers- one yard at a time. Our size allows us to provide the attention to detail that you derserve. All of the services provided by Omasta Landscaping are completed by Omasta employees. There are no subcontractors for you to deal with. We utilize new equipment and the latest technology which enable us to reduce labor costs and keep productivity up.
The owner, Greg Omasta, has over 30 years of experience in the trade, as well as a degree in Plant & Soil Sciences.
Omasta Landscaping Inc. was founded by Greg Omasta in 1979. Greg's introduction to horticultural field really began in the early 70's. During his high school years he was employed by a local garden center working after school and on weekends. For the next five years he learned invaluable lessons about trees, shrubs, perennials, and lawns.
After graduating high school he furthered his education by working for the Massachusetts Department of Agriculture as a nursery inspector. In the fall of 1975 Greg enrolled in the Plant and Soils Department at the University of Massachusetts. Four years later, Omasta Landscaping was conceived.
Today, some 34 years later, Omasta Landscaping is recognized as a premier company capable of handling just about any project large or small. Specializing in lawn installation, fertilization, irrigation and hardscapes, the staff at Omasta is highly trained and willing and able to provide its clients with the highest level of quality and professionalism.